The Northern California DX Club sponsors a number of awards.
The Club Member Of The Year Award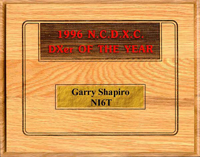 Each year the NCDXC makes an award to the most outstanding member of the club who has consistently and actively participated in DX and club activities. The award is given at the International DX Convention.

The Club Member of the Year Committee

The Club Member of the Year committee consists of five members, the chairman appointed by the President, two appointed by the Board of Directors and additional anonymous members selected by the first three.

The committee shall solicit and receive nominations from any member as well as make its own nominations.

The committee shall select the most deserving nominee without regard to the source of the nomination.

The committee may decline to name a recipient if in its opinion, no nominee meets the high standards established for this award.

Criteria for Selection of the Club Member of the Year
Cooperation and assistance with DX efforts, maintaining liaison with or coordinating DXpeditions, and helping other members to work DX.
Standards of operating ethics and practices. Compliance with FCC regulations, exhibition of fair play, sportsmanship, and good operating practices at all times. Use of ethical practices in working new countries, and obtaining QSLs.
Paticipation in club activities. Serve as officer or director, DXer editor, participation in DX contests with scores contributed to the club, support of the club repeater, attendance of club and repeater meetings, service on committees, bringing in new members or making guests welcome.
Achievements. Winning major DX contests, winner of awards such as 5BDXCC, Honor Roll, etc. Amateur related appointments and service, as in ARRL offices or communications department appointments. Service to public in emergencies, or promoting international goodwill. Assistance to potential or new amateur radio operators or conducting of training programs.
Other Considerations
Only voting members who have been club members for at least three years are eligible for the award.
No person may receive the award more often than once every three years.
Members of the committee, if nominated from for the award, shall be withdrawn from the committee and replaced by members not nominated.
The time period considered shall be the calendar year immediately preceding granting of the award, but past performance in prior years shall also be considered by the committee.
NCDXC Home Page