Next NCDXC Meeting
Annual Summer Picnic
Date
: Saturday, July 25, 2015
Time: 10:00 AM to 3:00 PM

Location
: Shoup Park, 400 University Ave, Los Altos, CA 94022.

Please RSVP to Bob Lanning, W6OPO, at treasurer@ncdxc.org,
and tell him if you'll be attending and if you'll be bringing a guest.
See Meetings Page For Details
New Name Badge Program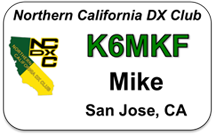 See Membership Page For Details
Welcome To The NCDXC Web Pages!
The Northern California DX Club was founded in 1946 and has over 190 members, many who reside in the San Francisco Bay Area, and some across the United States and around the world. Over the years, our Club has supported many DXpeditions and our members have participated in many DXpeditions, providing exciting contacts to Amateurs around the world.

In April, 2017, NCDXC is sponsoring the 68th Annual International DX Convention in Visalia, CA. More IDXC 2017 information is available on the IDXC Meeting page.

Recently our Club has provided an online archive of the West Coast DX Bulletin published weekly from 1968 to 1979 by Hugh Cassidy, WA6AUD (SK). This archive is a great historical record of DX happenings from that era. Also online here are back issues of the NCDXC DXer newsletter from the first issue in 1948, providing an excellent historical perspective of DX from Northern California.

The Northern California DX Club welcomes all Amateur Radio operators who are interested in DX. Whether you are just beginning your quest for DX, or maybe you have one or two entities, or if you have more than 300 entities worked, you are welcome to join us. All DXers are welcome and invited to attend our meetings on the 3rd Thursday of each month. Click on the Meetings button on the left for more details.

We hope you find our website of interest, and we look forward to seeing you at an upcoming meeting very soon!

73,
NCDXC Board of Directors